Let's face it, our breakfasts are usually pretty boring and most of the time not healthy. Depending on where you live you'll maybe have bread and lunch meat or cheese, porridge, scrambled eggs with bacon, or some kind of cereal for breakfast.
Why not pep it up a little bit? ….and make it healthy at the same time…
Here's a super simple, healthy recipe for an Avocado – Tomato – Baguette:
1/2 Avocado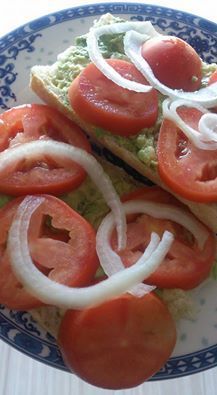 1 Tomato
a few slices of onion
1 Whole Wheat Baguette
Use the avocado as a spread instead of butter or margarine.
Top your baguette with tomato and onion slices and you have a delicious breakfast baguette!
Since avocados have a high amount of fat this breakfast will keep you full til lunch and as a little bonus you get a good amount of Vitamin C and Potassium with your breakfast.
To switch it up you can also use almond or hazelnut spreads,
Enjoy! 😉
Written by: Jen
The Online Personal Trainer for Women